Enclosed Car Trailers and Haulers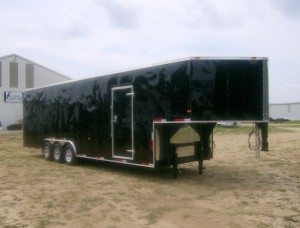 We offer great enclosed car trailers at low, low prices. Our car haulers are made with all tubular steel (strongest possible), triple tube hitches (many of our competitors only have two tubes in their hitch), LED tail lights, 3/8″ plywood walls & 3/4″ plywood floors.
We have two different models. The Ranger series, which is our entry level enclosed car hauler and our Elite series which is our top of the line trailer.
The Elite series has a 24″ stone guard the Ranger series has a 16″ stone guard. The Elite series has all LED lights (tail lights and running lights), the Ranger series has incandescent running lights. The Elite series comes with Radial tires, Ranger has bias ply. The Elite Series has a choice of 6 colors, Ranger comes standard in white. Elite has a bullet or flat nose, Ranger V-nose or flat nose. The standard interior height for our enclosed car hauler models is 6′ 6″.
The Ranger series has a bar-lock side door and the Elite series has a flush-key lock door.
The Ranger enclosed car trailers series offers limited customization while the Elite series is fully customizable with our options list.
Due to the pandemic, all trailers are currently on back-order. Please call us at 727-346-6423 for more information or to order your trailer.
Showing 1–15 of 32 results
How to Choose the Best Car Trailer?
Your car is very special to you and you will do everything you can to take care of it. You will go for expert maintenance, and you would love to do some research on the good care of expensive cars.
However, when you are about to transport your car from one place to another a headache seeps into your mind. That is your fear for its safety.
No matter where you are going, it can be an event or a race track, your car is the heartbeat of yours because you get the best praises for it.
Here, if you invest in a car trailer, it will never be a waste. If you are a car enthusiast, then you will surely go for this and will also look for the trailers that will serve you the best.
Open and enclosed car trailers
This is one of the main things when you are looking for car hauler trailers.
One needs to decide whether they want to opt for the enclosed or the open car haulers. If you are opting for the enclosed car trailer then it will provide you with the full coverage which is quite a great option for several people. It will protect you from all the outside element and one can also use it for any type of permanent storage.
Enclosed car trailers can easily protect the exterior of the car from any type of road debris or stone if they are opting for the enclosed trailer.
If you want to travel to a long-distance with your car then always try to opt for the enclosed car trailer as it will be a wise choice.
When you need a trailer if you are careful, it's time to look for an enclosed car carrier. These carriers provide the protection and security dedicated haulers need. Various lengths and widths are available and there are other options you will get from enclosed carriers. These are an all-in-all solution for retreat, then garage and office.
With trailers123 you will get enclosed car trailers free from rust, lightweight hauling, composite, and steel for the hardest jobs.
Our aluminum car haulers offer the benefit of less maintenance and towing weight combined with excellent value for resale.
Open car trailers
If you are looking for easier options, then, you can look for open trailers. These are affordable and flexible choices for towing your vehicles. They are usually lighter than enclosed trailers, open trailers may not require a special towing vehicle and are easier on the gas tank.
You will get plenty of configurations for open car haulers. Starting from flatbeds with slide-in ramps for loading and unloading, beaver tailgate trailers, to tilt models.
Most of the top quality manufacturers provide open car trailers manufactured in weight-wise tubular or channel aluminum or made of brawny steel. For this, you need to select a deck which is treated lumber, aluminum or steel plate.
Other than great value and easy to use, there are other benefits of the open car trailer.
If you are just starting, a simple single-car open carrier is a great entry point for traveling to the track or classic car shows or even when starting a small local business. Open car carriers are best for long trips too. They offer greater fuel economy than they're bulkier, less aerodynamic, heavier enclosed cousins.
An open car hauler is a champion when it comes to multi-tasking. This is capable of double-duty hauling construction supplies, DIY materials, golf carts, ATVs or landscape equipment.
Size of car trailer
The size of the trailer will depend on the cars, and how many are you going to fit in one hauler. 8'*16' will be the dimension if you opt for the smallest enclosed car trailer. It will help you to easily haul any single vehicle easily as it is decently large. Most popular trailer companies will provide you with trailers having sizes 8.5' X 20' and 8.5' X 24'.
Weight of trailer
In order to determine the weight of the enclosed car trailer that you will need, you will have to check the size of the car. If you have a classic and old car, then it is definitely going to be heavier than any other track-ready and light racing car. Depending on the car weight, you will have to pick the right car hauler trailer.
Steel and aluminum trailers
You have to choose between steel or aluminum enclosed car trailers.
Also, they vary in their prices too. The price of aluminum trailers is definitely higher because it is going to provide you with durability as they are resistant to rusting and will ensure longevity.
You can also opt for the steel trailer, but try to pick the high-quality ones.
Most enclosed car trailers definitely offer extreme durability, but make sure it has enough protection to withstand rusting
Trailer accessories
Accessories are another great part of a car trailer. When you are about to transport cars, you need to add them as an essential thing. So, check out the stuff beforehand.
Observation Decks: If you have seen races then this is one of the popular things with a race team. Outfitting your trailer roof with an observation deck gives you a great seat to watch your car on the track.
Escape Door: You will get an extra door on the driver seat wheel wall. This particular upgrade lets you open your car door through the get-out door and makes it easier to get out of your car while in the enclosed car hauler.
Extra Height: In order to get some extra headroom inside your car you will be able to customise the trailer. It will help in increasing the height of the ceiling and the opening of the door. It is a crucial upgrade that many classic cars like Model A have.
Finished Interior: It is not mandatory for all the best car trailers to function efficiently even if it looks really good and has impressive features. There are several trailers that will allow you to customise it and provide proper finishing to the interior of the car with the car paint or its colour. There are several car enthusiasts who believe in decorating the trailers as well.
AC Unit in Trailer: When you are planning to have a leisure moment in the enclosed car trailer, then, a built-in AC unit will be enough for a long way to making it more comfortable.
Open Center Car Trailer: This is the kind of opening which will let you go underneath the car and work on it without any risk.
There are various types of investment in the world, but when it comes to cars, the same can never be compromised for cheap. Also, before you buy a car trailer you need to know things that are crucial every time.
If you have any questions about our enclosed car hauler trailers please call us at 727-346-6423 or use the chat button on the right.