Rock Solid Funding gets you approved!
Rock Solid Funding LLC is a professional financial services provider that specializes in recreational equipment financing. We offer a safe and efficient finance process with tailored terms to dealers and retail customers in most states.
You choose how to apply:
Click Below to Apply: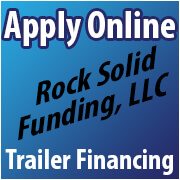 Complete our online credit application
Call one of our specialists at 800-607-1108 from 8 a.m. to 5 p.m. CST
Fax your credit application to 800-471-4842
Rock Solid Funding LLC can provide many options and terms for you to choose from. Personal, Commercial, Self Employed retail installment loans and leases are available.
Our relationships with large, nationwide lenders offer you the most competitive rates and terms available. Contact one of our financial specialists today to match your unique financial needs and credit circumstances to a plan that fits your budget.
Prime and sub-prime financing is available with rates as low as 5% and terms up to 180 months*.
Personal Attention
We take the time to understand each individual's financing needs. This allows us to tailor financing plans and payments that fit each of our client's budget needs. "Personal Attention" is what separates us from rest and has contributed to our success. We do it right the first time.
Whether you choose to give us a call to speak with a friendly specialist, complete our online application, or fax your credit application, be prepared to experience "good old fashion customer service." One call does it all.
This is what separates us from others and has contributed to our success in achieving a 71% approval ratio.
"We Rock the Industry"
With more than 40 years of combined experience, the professionals at Rock Solid Funding LLC are committed to providing you with an exceptional financing experience. We noticed a glaring vacancy in the trailer industry and arena of recreational equipment financing, and have proven to satisfy this need.
Historically, customers were forced to pay cash or seek a less than equitable loan or lease from their bank or credit union. We opened our doors in 1997 and have been financing utility, cargo, livestock and horse trailer owners ever since. In 1998, after establishing a better way for dealers and customers to finance their purchases, we entered the RV, travel trailer, marine and motorcycle industries.
You could say we have "Rocked the Industry."
We are based in Waco, Texas and now serve most states.
We are dedicated to serving all manufacturers, dealers, and customers. Large or small, we do it all with a safe and simple virtual process.
We are a member of the (NATDA) North American Trailer Dealer Association.